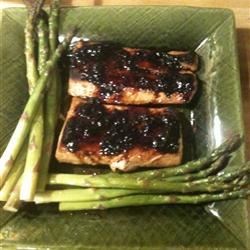 One day last summer or fall we got a knock on our door from these meat delivery dudes out of Reno. Apparently they travel around for this company with a freezer for a truck packed full of all kinds of beef, chicken, pork, and fish. They suckered us into the deal--we got a TON of beef and a TON of fish for a couple hundred dollars. We probably wouldn't have done it but Andy knows a thing or two about beef pricing and knew it was a good deal (they gave us 50% off I think since we were "new"). That stocked up our freezer and we're still working it off!
There something else you should know....I'm in love with balsamic vinegar. I love the stuff. One of my favorite guilty pleasures when I dip my fresh-baked bread in it with olive oil. But I don't like it so much in salad dressing (probably because I
hate
don't enjoy salads).
I found this gem of a recipe on
All Recipes
while searching for one for a Mahi Mahi. I'd never cooked fish before we bought all of it, so it's been a learning experience. I'm not sure I've made our Mahi Mahi any other way since I used these ingredients! I'll put the recipe here and below I will explain anything I did differently.
Ginger Glazed Mahi Mahi
Ingredients
3 Tbsp honey
3 Tbsp soy sauce
3 Tbsp balsamic vinegar
1 tsp grated fresh ginger root
1 clove garlic, crushed or to taste
2 tsp olive oil
4 (6 ounce) mahi mahi fillets
salt and pepper to taste
1 Tbsp vegetable oil
Directions
In a shallow glass dish, stir together the honey, soy sauce, balsamic vinegar, ginger, garlic and olive oil. Season fish fillets with salt and pepper, and place them into the dish. If the fillets have skin on them, place them skin side down. Cover, and refrigerate for 20 minutes to marinate.
Heat vegetable oil in a large skillet over medium-high heat. Remove fish from the dish, and reserve marinade. Fry fish for 4 to 6 minutes on each side, turning only once, until fish flakes easily with a fork. Remove fillets to a serving platter and keep warm.
Pour reserved marinade into the skillet, and heat over medium heat until the mixture reduces to a glaze consistently. Spoon glaze over fish, and serve immediately.
The differences when I make it:
I didn't have real honey on hand but I had imitation honey this time, and it worked just fine.
I usually only make two fillets so there's plenty of sauce (glaze) for the fish and for the vegetables I make with the meal (I usually make asparagus). It would be enough for 4 fillets as well as long as you don't want to drown your food in it. I love the sauce, so I drown my food in it.
I use olive oil instead of vegetable oil to cook my fish.
I use a whisk to stir together the ingredients.
I keep my ginger root in the freezer and just take it out to grate whenever I need it--works well instead of keeping it fresh in the fridge because I don't use it often enough. Incredibly easier to grate when frozen as well!
When I marinate the fish I poke holes in them first with a fork and spoon the marinade over them.
According to this Internal Temperature Cooking Chart, fish fillets should reach 140 degrees when fully cooked if you're using a meat thermometer.
I keep the fillets warm by putting them on a plate, covering them with a microwave shield and just placing them in the microwave (not running the mic).
I hope you enjoy this recipe as much as I do!