That was the thought that was running through my head today as I was working in the kitchen. We have a bunch of ingredients that need to be used up, but I didn't really know how. I thought having a Remy on top of my head, like on Ratatouille's "chef" Alfredo Linguini, would be helpful.
Ratatouille
is my favorite Pixar movie, if you didn't know.
Broccoli was the main component I wanted to get rid of tonight. I don't like broccoli much--I actually bought it a while ago intending to use it with the
Ginger Glazed Mahi Mahi
, but I completely forgot about it in the fridge. Unless it's smothered in cheese sauce or blended in a soup, neither my husband or I like broccoli much. And I wasn't really in the mood for a cheese soup, so I just whipped up a different kind with things we had on hand--including a sweet potato and cream of mushroom soup!
Music of the day: my favorite Florence + the Machine song.
The ingredients for the experiment:
4 cups water
1 tbsp Better than Bouillion OR 2-3 cups chicken broth OR vegetable broth (plus the difference in water)
1 sweet potato
3 oz broccoli flourets
1 tsp onion powder OR 1/2 an onion, diced OR however much you want
1 tsp garlic powder OR minced OR however much you want
1/2 tsp salt
1/2 tsp pepper
1 can Cream of Mushroom soup
1. Bring water and bouillion to a boil and boil broccoli for 5-10 minutes or until tender. I didn't really pay attention to how long and it was getting blenderized anyway so I didn't care too much.
This is when I would saute the onion and garlic if I was using the real stuff. Then I'd add it to the blender with everything else later.
2. Pierce and microwave the sweet potato for 4 minutes. Peel and cut into large cubes. It was easy to peel after I microwaved it by roughly sliding a spoon in between the skin and the potato--like you would do for an avocado.
Notice the spoon in between the skin and potato.
3. Put the broccoli and broth into a blender and blend (or use and immersion blender).


This wasn't all the broccoli and broth yet.
I added more after I blended it a bit for more space in the blender.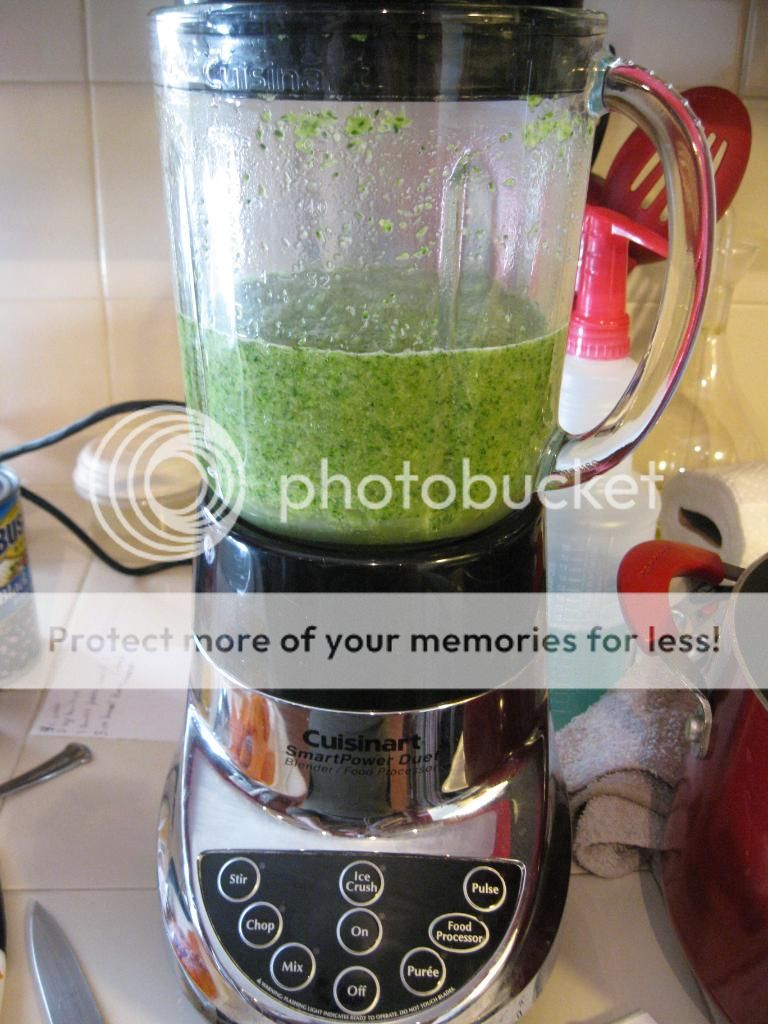 Greeeeeeeeen.
4. Add the sweet potato chunks and blend that too.
Pretty colors!
5. You could probably add the spices and blend right now, but I just returned everything to the pot and whisked the spices in by hand instead.
6. We tasted it at this point and it was good, but kind of overwhelming. Very...vegetably? So this is when I got the idea to add a can of creamy soup to try to smooth it all out. And it worked! I added half of can of Cream of Mushroom and tasted, and decided to add the other half too. Taste and see before you add any if you think you'd like a stronger broccoli & sweet potato flavor.
I love my bunny whisk.
7. Taste and add more spices if desired.
I thought the soup went well with the rolls I made yesterday for the Stuffed Burgers. They might've even been better than the day before! After sitting overnight in a sealed ziploc bag, you can really taste and smell the onion in them now.
Enjoy!