With the big winter storm we had the past few days here in Montana (11 inches of snow before Thanksgiving!),it really put us in the mood for chili. Ever since I was a kid I've enjoyed Cincinnati Chili which is a chili that is made up of exclusively meat (as in, no beans or vegetables). People are often alarmed at the idea of putting cocoa powder & apple pie spice in a chili recipe and eliminating beans, but have no fear! It's perfect for a cold winter day. And you can always add beans if you want to anyway!
Cincinnati Chili
1 lb ground beef
1 1/2 Tbsp chili powder
1 Tbsp cocoa powder
1 1/2 tsp apple pie spice
1/2 tsp cumin
1 tsp onion powder
1 1/4 cup tomato sauce (I used tomato puree)
1 1/4 cup beef broth (I actually used a full can, so 14.5 oz or 1 3/4 cups instead)
1 tsp hot sauce (such as Sriracha sauce with the rooster on the bottle)
1 Tbsp cider vinegar
This recipe is easily doubled and can be frozen.
1. Preheat broth on medium heat. Add beef and cook, crumbling with whisk.
2. Combine dry spices and mix, then add to meat. Blend flavors and cook for a few minutes.
After adding the spices to the meat, it turned a lovely rich brown color.
3. Add tomato sauce, vinegar, and hot sauce.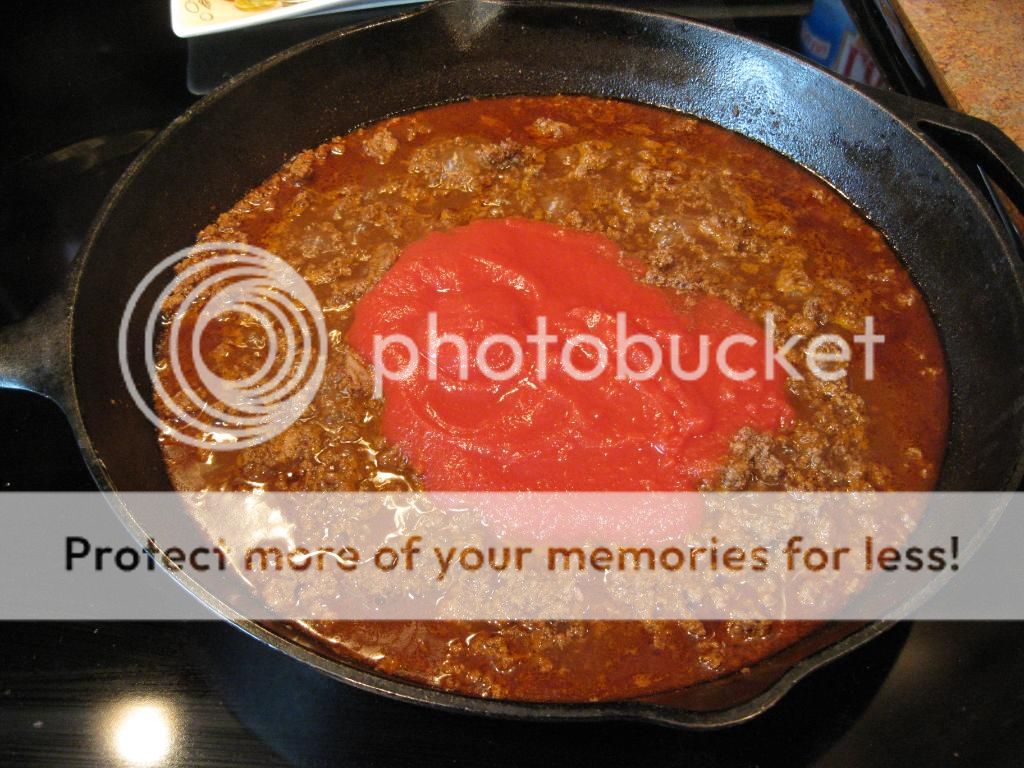 After adding the tomato sauce it turned an even richer red-brown color.
4. Simmer however long you want to make it the consistency you like. I like my chili thicker, but you can always leave it thinner.
Some people like to eat it over spaghetti. I personally just load it up with shredded cheddar cheese and eat it out of a bowl since it's plenty for me. I do think it'd be good with Fritos on top though. I think I let it simmer a little too long and it's a little thick for my taste, but my husband is pleased because he'll probably eat it with some hot dogs to make chili dogs. To each his own, I guess!
I made cornbread also today to go along with the chili. I used this
Grandmother's Buttermilk Cornbread
recipe.
And I am not kidding when I say that this cornbread is SWEET. There is quite a bit of sugar in the recipe. I didn't want to change the recipe on my first try, but next time I will probably use some honey in it instead of sugar, or maybe Splenda and use less sweetener overall. It was a good recipe though. I will also probably cook it a few minutes less but it didn't come out crumbly either, which is like a first for me with cornbread!
I hope you enjoy it on a winter's day like we did!