A year ago a friend and I spent a day making homemade "Apple Butter." It's been in my pantry ever since, waiting for a use. I knew if I opened it that I'd never be able to use it all before it went bad (no preservatives, of course). And we accidentally over-spiced the apple butter, so I wanted to mix it with something rather than just using it as a spread.
Luckily recently I found a recipe for
Spiced Applesauce Bread
that sounded perfect for my situation. Instead of using applesauce and spices I just swapped them out for my jar of apple butter.
Here's the recipe:
Spiced Applesauce Bread
1 1/4 cups applesauce
1 cup white sugar
1/2 cup vegetable oil
2 eggs
3 Tbsp milk
2 cups all-purpose flour
1 tsp baking soda
1/2 tsp baking powder
1/2 tsp ground cinnamon
1/4 tsp ground nutmeg
1/4 tsp ground allspice
1/4 tsp salt
1/2 cup chopped pecans
Directions
1. Preheat oven to 350 degrees F (175 degrees C). Lightly grease a 9x5 inch loaf pan.
2. In a large bowl, combine the applesauce, sugar, oil, eggs and milk; beat well. Sift in the flour, baking soda, baking powder, cinnamon, nutmeg, allspice and salt; stir until smooth. Fold in the pecans. Pour batter into prepared loaf pan.
3. Bake in preheated oven for 60 minutes, or until a toothpick inserted into center of the loaf comes out clean.
I was lucky that my jar of apple butter had almost exactly enough to make this bread (1 1/4 cups).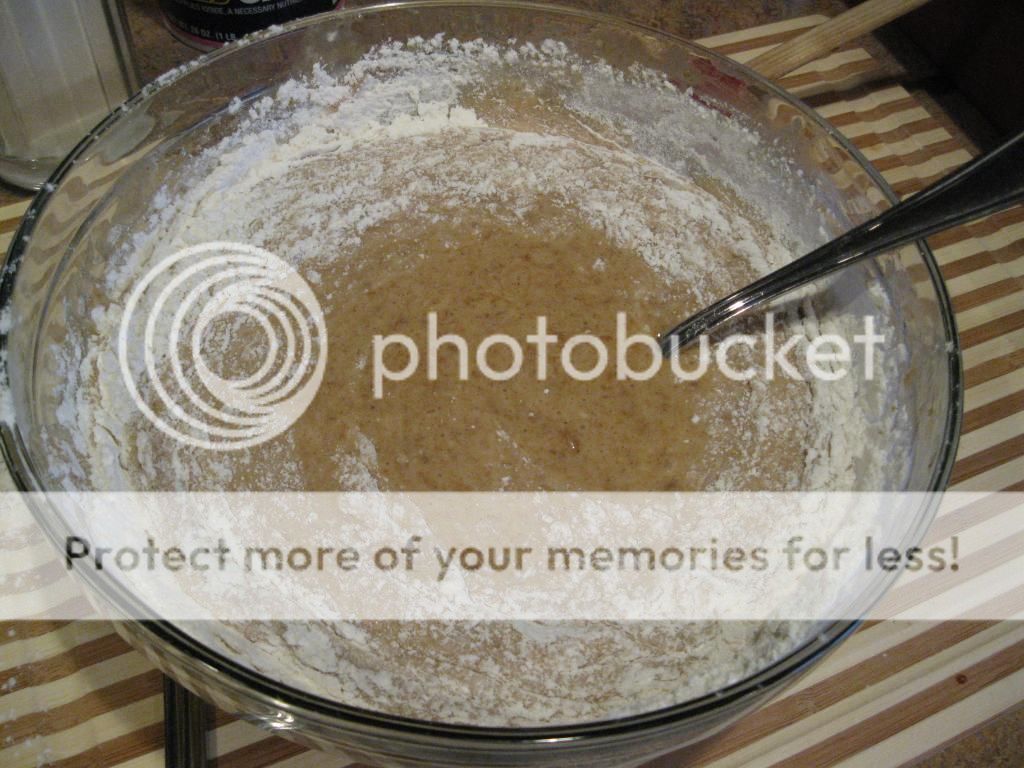 This was halfway through stirring in the sifted flour. It took about five minutes to add all of the flour--add, stir, add, stir, add, stir....
I didn't add any spices since my apple butter was so strong, and I didn't add the pecans because I don't usually like nuts in baked goods.
I was afraid the baking might be different since I am at a high altitude, but I didn't seem to have any real problems. I started checking for doneness after 40 minutes and I think I took it out around 55 minutes.
It was a little dipped in the middle, but it wasn't sunken very much. After it cooled for 15 minutes I ran a butter knife around the edge and it popped right out when I turned it over. I like those flexible silicone loaf pans!
The edges were nice and crispy and slice went great with milk after dinner. I prefer the fact that it didn't have any chunks of apple in the bread, but some people do.
I wanted to follow the recipe while making the recipe the first time, but here are some suggestions by reviewers that I will probably take into account next time:
Use half brown sugar and half white sugar
Use chunky applesauce
Use less oil (it did seem excessive to me, but followed the recipe anyway)--try 1/3 c or 1/4 c
Double the spices. Many reviews said that the original recipe comes out a bit bland.
Make a crumb topping. I thought one like coffee cake would be great, or a reviewer suggested: 1/4 brown sugar, 1/4 cup chopped pecans, and 1/2 tsp cinnamon.
Sprinkle brown sugar on top before baking so it makes a nice crispy sweet top.
Add a cup of chopped apples (if not using chunky applesauce) for added moisture
Cover lightly with foil to let it steam for 30 minutes. It locks in moisture and works for all loaf breads.
Add a tsp of vanilla extract
Eat with tea, hot chocolate, or coffee!
Grease the pan and sprinkle with cinnamon sugar
Add 1 tbsp apple cider vinegar to increase spiciness.
Use walnuts and/or raisins
Use 1 cup of wheat flour and 1 cup of white flour
These are just some of the suggestions made by others who have used this recipe. I also wonder if some molasses would spice it up too. Lots of room for experimentation, anyway!
Enjoy!