Quite a while ago I was able to obtain some FREE paint from Ace. Every once in a while they have a promotion where you basically hand over your address and email and they give you a free quart of paint! Fine and dandy with me! I'll take whatever lame junk mail they want to send if it means a whole quart of free paint! And I don't think my junk mail has increased at all, actually....
The paint was
flat
instead of any sort of gloss, which was fine because I planned on making it into chalk paint and using a wax afterward.
At any rate, I had big plans for my turquoise paint!
We obtained a nightstand and a dresser from a great Aunt of my husband's who passed away. Sophie was 103! Amazing woman.
The first step in furniture makeovers is prepping, of course. I didn't know exactly how old this furniture was, so I was sure to wear a nose & mouth mask while sanding in case it was lead paint.
I found that this was a good dresser to demonstrate why foam sanding blocks are a good item to have on hand , especially for corners. They're great for sanding and distressing too.
I decided to try a chalk paint for this project and set out to make my very own! Chalk paint out there can be expensive, but making your own in whatever color you want is pretty simple. There are recipes all over Pinterest and they all generally work the same way. I used Plaster or Paris instead of unsanded grout with this recipe:
Mix the PoP and warm water until dissolved, then mix with the paint. Voila!
It's pretty easy! Since I heard that you don't need to use primer with chalk paint, I didn't. It seemed to come out just fine without a primer.

I ended up putting about three coats of paint on everything because I was putting a darker color on top of white. After about the first coat or two I tried sanding a little bit to sand down a drip I had noticed--mine or the previous painter's, I can't be sure--and a whole bunch of the paint came off instead of just a little. That's when I decided that I would distress the piece more all-around or else that awful mistake would be terribly obvious. Oh well!

Sorry for the quality of the photos. My camera is in the midst of dying and I probably won't get another one for a while!



I didn't think the distressing looked that great, but such is life. It'll be a long time before I do this dresser over again!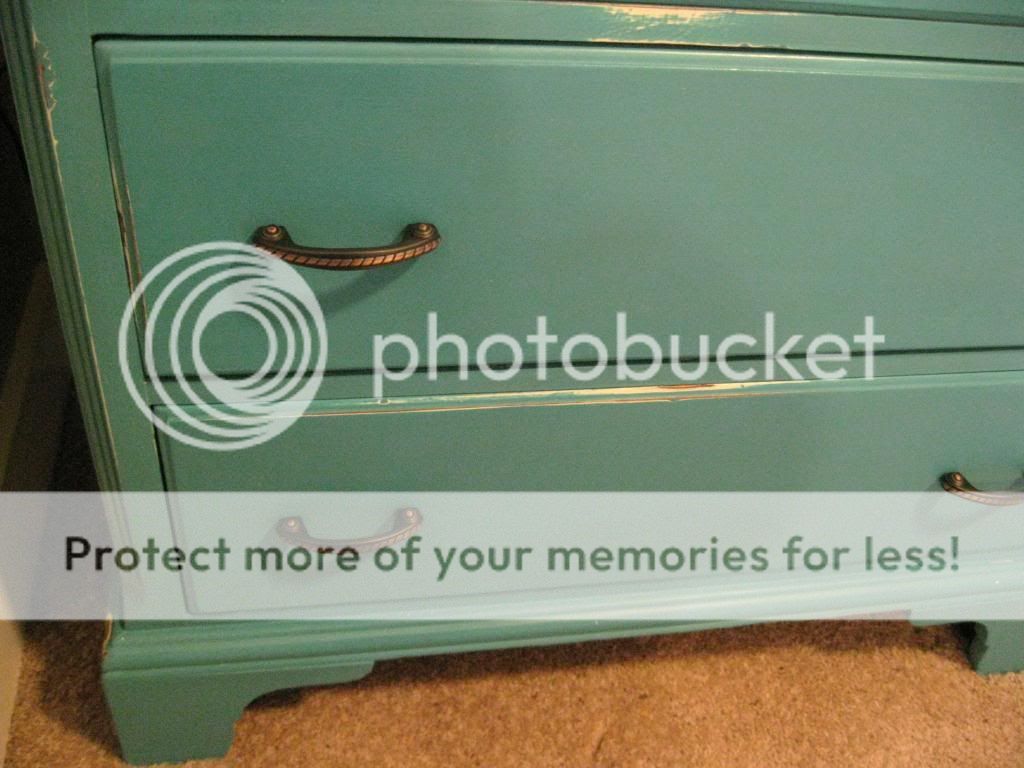 Closeup of some distressing and the new hardware I bought on eBay.
After the paint was dry, I did about two coats of
Minwax Paste Finishing Wax (dark)
, rubbing it on in a circular motion. Between coats I buffed it with a buffing wheel that attached to my husband's drill. I don't know if I would've been able to do it by hand! It made a nice shine instead of the flat chalk paint.
I forgot to take photos of the nightstand, and it's currently being used in the basement by some guests but I took some photos anyway. The light down there made the color look WAY different!
I think it's kind of cute anyway.
I think the dresser looks nice in the spare room with the yellow walls. What do you think?